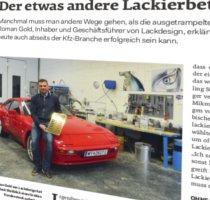 The somewhat different painters
Sometimes you have to go other ways than the well-trodden paths that lie before you. Roman Gold, owner and CEO of paint design, tells us how well off the automotive industry can be successful as a bodyshop today. Somewhere in the middle of the 23rd District of Vienna, in the industrial area Liesing, the company lacquer design is hidden. Red brick buildings stand side by side like a hall. In these halls the refinisher toils Roman gold. And - how fast out - he is a capable businessman with branchenunüblichem vision. SMALL BUT OHO The operation seems at first sight less than he is: A gate as entrance, two paint booths, an office and a lounge. But everywhere you look, you may spot a loud pretty things: shimmering golden trumpets, magnificent chandeliers, car rims, motorcycles and hi-fi components. What's it all about? Actually, we had come to paint a body blank of the University of Applied Sciences Vienna. Are we really right? Yes, we are, because Roman gold painted not only bumpers, bonnets and doors. Paint design makes more, much more, mostly with car paint from Standox.
"As a painter you have to wide today put up. "
ROMAN GOLD, CEO PAINT DESIGN